Arrive and Drive - £15,300 + VAT
21 November 2017
Caterham official 310R Championship DRIVE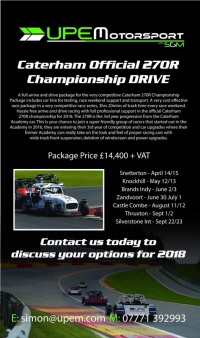 A very cost effective race package in a very competitive race series, 3hrs 20mins of track time every race weekend. Hassle free arrive and drive racing with full professional support in the official Caterham 310R championship for 2018. The 310R is the 4th year progression from the Caterham Academy car. This is your chance to join a super friendly group of racers that started out in the Academy in 2015, they are entering their 4th year of competition where the former Academy car is upgraded to it's full potential with LSD and 152bhp in a car weighing 520kg.
The UPE Motorsport 310R comes fitted with a full video V-box data logging system. The 2018 calendar has just been released and is as follows:-
Snetterton April 14/15
Knockhill May 12/13
Brands Indy June 2/3
Zandvoort June 30 July 1
Castle Combe August 11/12
Thruxton Sept 1/2
Silverstone Int Sept 22/23
Package price quoted is for the whole 2018 championship and includes hire for testday, 20min qualifying and 2x 30min races, transport, support, fuel and consumables. Race insurance extra at cost. If committing to the full race series the last round at Silverstone International will be free of any hire or support charges and we will even throw in 2 complimentary tickets for the end of year Caterham awards ceremony.
Please call or email for more details.